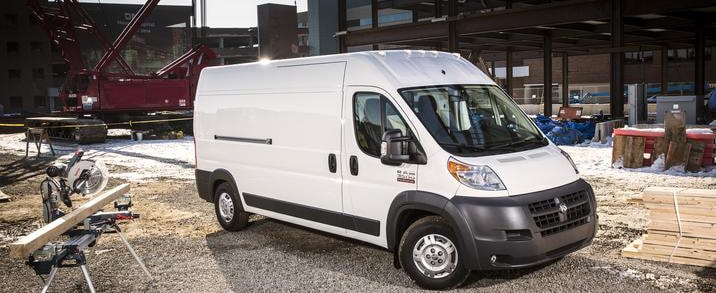 The Ram ProMaster is Ram Commercial's latest addition to its popular vehicle lineup. ProMaster takes its place in the expanding, purpose-built, full-size van segment with a number of best-in-class features focused on the commercial customer. Coming from a strong background of commercial vehicles produced by Fiat Professional, the ProMaster is based on the Fiat Ducato, which has been in production for more than 30 years.

ProMaster boasts numerous best-in-class features that are appreciated by the hard-working customers of Ram's new van. Best-in-class fuel efficiency, cargo capacity, usability and of course total cost of ownership all combine to deliver a proven solution for businesses and fleets.

"As Ram takes a larger presence in the commercial truck market, the Ram ProMaster is a great addition, contributing to a one-stop shop of commercial-duty Ram trucks and vans," said Fred Diaz, President and CEO. Ram Truck Brand and Chrysler de Mexico, Chrysler Group LLC. "The ProMaster answers to key segment demands with best-in-class features, quality, durability, capability and low total cost of ownership."

Ram Truck is tapping into Fiat Professional, one of the largest producers of commercial vehicles in the entire world, offering more than 110 years of experience. That knowledge will help Ram Truck enter new segments and expand its product line. The Ram ProMaster is based on the front-wheel-drive Fiat Ducato, which is the most popular full-size van in Europe.

The Fiat Ducato is now in its third generation with more than 4.5 million sold worldwide. The Ducato platform offers Ram a proven, award-winning workhorse with an incredible combination of durability, value, efficiency, and capability like no other in its class. Additionally, the ProMaster is the only offering in its competitive set to provide both a chassis cab and cutaway from the factory.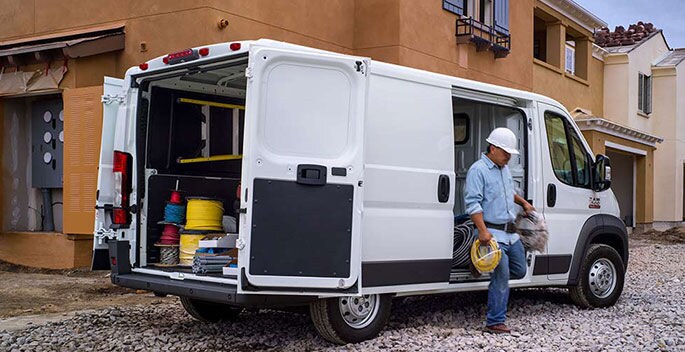 CHASSIS
The ProMaster is available in two roof heights, three wheelbases, and four body lengths.  Additionally, the ProMaster offers both a chassis cab and cutaway from the factory. Its unibody frame architecture makes it significantly lighter than the competition. As a result, the ProMaster boasts an impressive best-in-class payload capacity up to 5,145 pounds and a maximum towing capacity up to 5,100 pounds. The gross combined weight rating (GCWR) for the 3.6-liter V-6 is 11,500 pounds and 12,500 pounds for the 3.0-liter I-4 EcoDiesel. A unibody structural has additional advantages, including stability and strength from front to rear, a reinforced plenum area for optimized engine packaging, and "truer" tuning of chassis systems and related hardware when compared to more common body-onframe applications.
 
FRONT-WHEEL DRIVE
The unibody system under the cab is an enabler for the ProMaster's segment exclusive front-wheel-drive system. The body-integral construction and multiple configurations allow Ram's ProMaster to be up-fitted for virtually every conceivable job. Without rear driveshafts or rear differentials, the proven drive system creates a number of advantages.
 

CARGO AREA
Thanks to its unique front-drive system, body-integral construction and the multiple of configurations offered, Ram's ProMaster can be upfit for virtually every conceivable commercial need. Proportionally, the ProMaster brings a new standard to the large commercial van-based segment. The ProMaster is available in two roof heights, 90 or 101 inches with best-in-class standard roof height and the most vertically oriented side walls in the cargo van category (nearly 90 degrees in relation to the cargo compartment floor).
The ProMaster features a standard sliding door on the passenger side with an optional sliding door on the driver's side. The sliding door openings are based on roof height  49 inch x 60 inch for the low roof model and 49 inch x 70 inch for high roof models. In the rear, an available two-position rear clamshell door swings open up to 260-degrees, folding almost flat to the side of the van. All three door openings enable fork lift pallet loading and unloading, and spaciousness that leads the competitive set. 

UPFITTER FRIENDLINESS
Ram Truck is well known for being the most upfitter-friendly brand in the truck market. The Ram ProMaster continues the tradition and features an integrated cab configuration for unmatched upfitter/ conversion solutions. Adding to the ProMaster's design for adaptability, virtually all primary vehicle systems are packaged forward of the cargo area.

POWERTRAIN
The Ram ProMaster van's powertrain lineup features the award-winning standard-equipment, gasoline-fueled V-6 and a torque-laden, I-4 EcoDiesel engine. The engines are paired, respectively, with a proven six-speed automatic transmission and an electronically controlled six-speed automated manual.
 
ECODIESEL
The Ram ProMaster marks the North American introduction of the potent 174-horsepower 3.0-liter inline 4-cylinder EcoDiesel engine that generates peak torque of 295 lb.-ft. at just 1,400 rpm. The engine features a number of refinements, including internal engine components, turbo and emission controls. Helping to reduced total cost of ownership, an oil-level sensor contributes to an oil-change schedule of up to 18,500 miles.
PENTASTAR
The standard-equipment 3.6-liter Pentastar V-6 is rated at 280 horsepower with peak torque of 260 lb.- ft., the dual overhead cam, 24-valve Pentastar delivers the capability required of a commercial van without compromising refinement hallmarks that have contributed to its ranking among Ward's 10 Best Engines for three years running. Reducing vehicle operating costs was paramount in the minds of the powertrain engineers who contributed to Ram ProMaster's development. Recommended oil-change intervals range up to 10,000 miles. But an intelligent oil-servicing system that monitors vehicle usage will trigger an alert when service is most appropriate. 

TRANSMISSIONS
The smooth-shifting 62TE automatic transmission is upgraded to accommodate the Ram ProMaster's prodigious weight ratings. Specifically, its 3.86 final-drive ratio enables comfortable grade transit under full freight. The transmission more readily adopts the most appropriate ratio for a given driving situation. The numerically lower overall top gear ratio delivers a more economical highway operation. The trailer/tow program comes standard with 62TE and the new M40 automated manual, which is not only exclusive to the 3.0-liter EcoDiesel, it stands alone in the Ram ProMaster's competitive set. The unique M40 gearbox delivers the efficiency of a manual transmission with the functionality of an automatic. At its core, it is a manual, but gear shifts and clutch functions are accomplished with electrohydraulic actuation system. However, the driver can opt for manual shift-lever inputs when desired. But the driver needn't do all the work. Gearbox software delivers a unique response to driving conditions. Shift logic is adjusted according to grade steepness. The result is a well-connected driving experience that delivers the fuel economy required of a commercial van such as the Ram ProMaster.