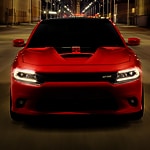 The 2020 Dodge Charger is an all-purpose automobile thanks to its wonderful attributes and features. Consumers can choose from many trim levels, including the SRT Hellcat, GT, and R/T. Consumers can also choose an all-wheel-drive system or a rear-wheel-drive system.
The 2020 Dodge Charger offers plenty of legroom for its interior, and this is a four-door vehicle. Headroom is also quite decent for a cabin that can seat as many as five individuals. Maps, navigation, audiobooks, and podcasts can all be found on the sedan's touchscreen display. This particular high-resolution screen yields an amazing image that's easy to read. The 2020 Charger goes on to offer voice-command prompts as well as Bluetooth connectivity. Consumers will also love the premium leather upholstery as well as the 7.0-inch driver display.
Test drive the 2020 Dodge Charger today if you dare, and it will be an experience that's like no other.